Tā,kā šo daudzi ir prasījuši,tad ievietoju arī šajā mājas lapā.Tikai uzrakstīšu mazliet sīkāk.Kam tad vajadzīgs ir PayPal konts?Konts noder,ja piedalies kādos ptc saitos un gribi saņemt kompensāciju par apskatītajām lapām,tad kompensāciju var saņemt uz PayPal.PayPal arī noder iepērkoties internetā,piemēram Ebay.com,kā arī caur PayPal var norēķināties par savas mājas lapas reklamēšanu.Iespējas ir daudz un dažādas.
Vēl viena no iespējām,ja tev ir mājas lapa,tad reģistrējoties PayPal var dabūt skriptu,kuru vari ievietot savā lapā ziedojumiem,veikalam un citām lietām.
Vai PayPal ir drošs?Domāju,ka jā,tas darbojas jau no 1998.gada un ieguvis vairāk kā 164 000 000 reģistrētu lietotāju.
Nu tad sākam!Spiežam uz banera:
Nokļūstam šeit un spiežam Sing Up: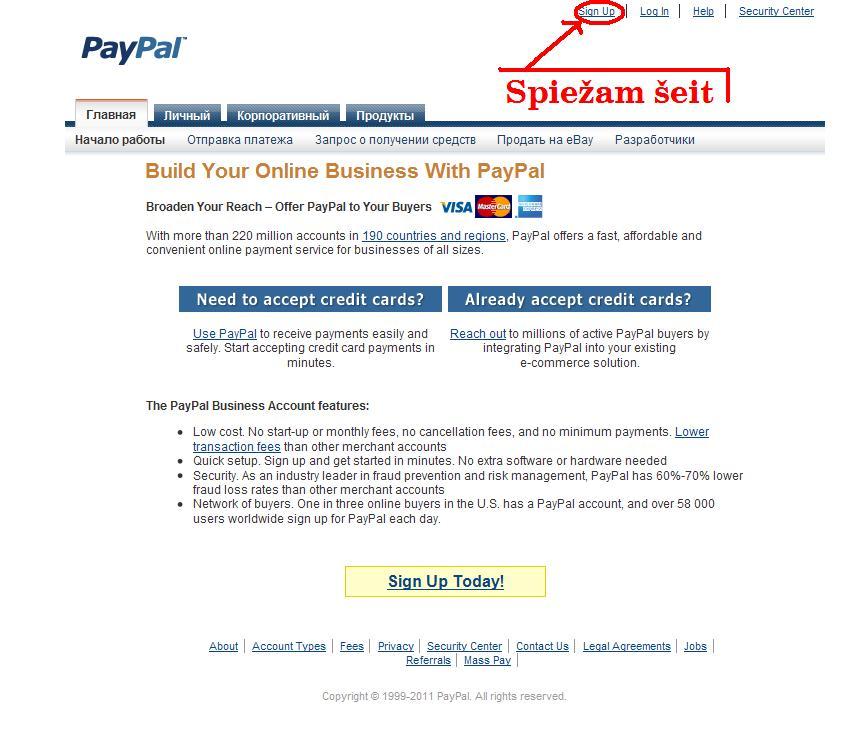 Nokļūstam šeit-es izvēlos krievu valodu,bet vari ņemt angļu,vienkārši man tā vieglāk,vēlāk valodas var arī mainīt.
Izvēlies valsti un valodu un izvēlies veidu,es paņēmu Premier,jāmaksā par to nav.Un spiežam tālāk!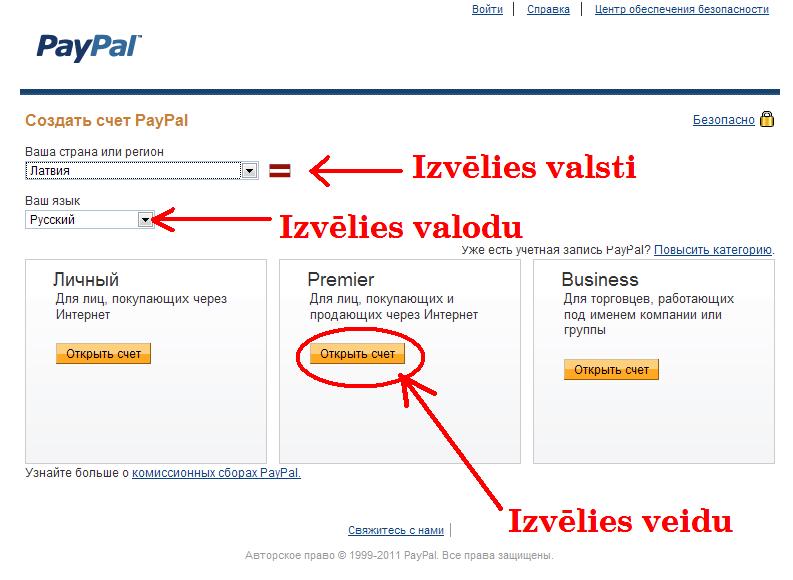 Tālāk aprakstīju,kas jāieraksta rāmīšos.
Svarīgi!!!!!!
Ja gribi sākumā tikai izveidot PayPal kontu ar konkrētu epastu,lai varētu reģistrēties PTC lapās vai kur citur un tikai vēlāk piesaistīt savu bankas karti,tad aizpildi visu tikai līdz tai vietai,ko iekrāsoju zilu un neliec ķeksīti tukšajā rūtiņā,tad spied uz dzelteno taisnstūri lejā.
Pa starplaiku nāks apstiprinājums uz tavu epastu,kurš jāapstiprina.Ja piesaisti uzreiz savu bankas karti,tad informāciju kā to dara esmu augstāk aprakstījis(kas kurā rāmītī jāraksta.Izņēmums ir ar American Express karte tai CSC ir 4cipari nevis 3 un atrodas kartes priekšpusē).Bet karti var piesaistīt vēlāk,kad būsi sistēmā,vai kad būs nepieciešamība noņemt naudu,to visu iekšā maina uzstādījumos.Kādas kartes der,kādas neder,tas jau cits stāsts,vienam pieņem tādu citam nepieņem,galvenais nosacījums:VISA,MASTERCARD,AMERICAN EXPRESS,bet kā jau teicu vēlāk vari eksperimentēt ,kad izdomāsi pievienot vai noņemt kādu karti.Kad būsi piesaistījis karti,tad būs jaiziet kartes pārbaude,nu tas ir lai šie zin ka karte tava,nevis sveša(uz kartes tad jābūt apmēram pāris latiem ,jo kad nospiedīsi iziet autenfikāciju,no kartes tiks noņemts apmēram 1,5 eiro un pēc pāris dienām uz epastu atnāks infa ar visu zīmējumu kā rīkoties,lai pabeigtu kartes apstiprināšanu,tad saņemsi 1,5 eiro atpakaļ uz PayPal kontu.Nu tas apmēram viss cerams,ka kaut kas noderēja no šitā murgojuma!

Un atceries-SVARĪGI!!!Nekad ,neviens tev neprasīs tavu kartes PIN kodu,šāda informācija tev nav nekādā gadījumā jāsniedz!!!